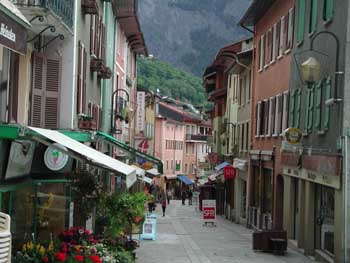 Bourg Saint Maurice is a lovely traditional small town, probably best known as the terminus where the trains reach the end of their journeys to the Alps.

Bourg Saint Maurice, however, is more than just a railway station, useful though this may be! It is a real town with a life of its own beyond tourism. There is a pedestrianised centre with cobbled streets and a good range of small touristy shops and restaurants. A bustling open-air market on Saturdays offers Savoy specialties such as mountain ham, wine, and rich and creamy Reblochon and Beaufort cheeses. On the outskirts of the town there are two large supermarkets and a brilliant hardware shop known to our family as the 'Wompom shop' (don't ask!).


There is a small cinema and a lovely swimming pool complex with two indoor pools and an outside 50m Olympic pool with diving facilities and grassy sunbathing terracing.

In winter, it is full of skiers as it has direct links via L'Arc en Ciel funicular railway to Arc 1600. In the summer, the town is also a magnet for cycling enthusiasts, as it frequently forms the base of a stage of the Tour de France.

There are lots of restaurants but we have only sampled one while waiting to go home on the sleeper train – Restaurant La Tartiflette (Tel 04 79 07 59 65), 29 Avenue Gare, a short walk up one of the streets opposite the station. As it is fairly small and ski luggage isn't, the enterprising owner lets his patrons dump their belongings in his 4x4 car parked outside. We had an excellent meal there!