There are more than 70kms of footpaths between altitudes of 1000m and 3749m in and around Sainte Foy. These satisfy every level of ability from gentle strollers to experienced mountaineers.
Many of the mountain walks wind through the Vanoise National Park and the Grand Paradis National Park. Walk through forests and Alpine meadows to discover numerous mountain lakes while watching out for a vast array of wildlife.
Guides to the walks around Sainte Foy are available from the tourist office which is open every day.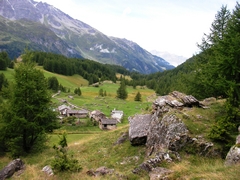 Our favourite walks include the walk to the historic site of Le Monal. This is a relatively gentle and push-chair friendly excursion through stunning scenery, with opportunities to picnic by the river. Continue to Le Fenil for views of the glaciers or, if you have the legs for it, up to the Lac du Clou in the hanging valley above Le Monal.
Guided walks, often free, are regularly organised by the Tourist Office. There are family-friendly walks, forest walks, wildlife walks, tours of local peaks or of the famous local Baroque churches.