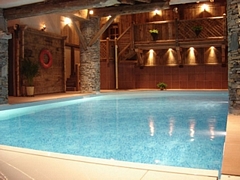 There are two Spa's located in the Sainte Foy ski resort, Les Balcons de Sainte Foy and Les Fermes de Sainte Foy. They are both located adjacent to the nursery slope.

Both spa's have a swimming pool, saunas, beauty area and fitness centre. Whether you're after a relaxing day away from the slopes or wish to rest your tired legs after a long day skiing, there is plenty on offer. Typical prices start at €16.

For further information please visit: http://www.spa-conference.com/spa.html

At the Sainte Foy ski station, there is a well-stocked Sherpa mini supermarket and a boulangerie/patisserie providing all the essentials for a week's catering – even Jagermiester is sold here! They are both located below the apartment!
There is also a delicatessen/gift shop past the swimming pool on the other side of the nursery slope called Une Marmotte au Soleil. This has a great website which even includes a video (via You Tube) showing the inside of the shop. Check it out at www.unemarmotteausoleil.com